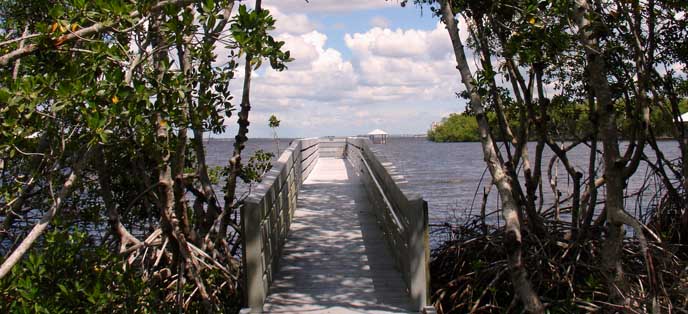 When you have the privilege of living in Cape Coral, Florida, you never have to worry about finding something to do. Thanks to the generous dose of Florida sunshine, outdoor activities are especially popular. If you love exploring new places without spending a lot of money, don't forget to take advantage of Cape Coral's excellent Parks and Recreation Department.
The department operates more than 39 locations, so there's always something new to discover around Cape Coral! Start your journey by heading to one of these favorite Cape Coral Parks.
1. Sirenia Vista Park
During the cooler months of the year, you can often view manatees at this scenic location. Visitors also enjoy great fishing and kayaking.
At the 8-acre environmental park, you can view osprey nests, Purple Martin houses, and other unique forms of Florida wildlife. Participate in a close-up manatee encounter and learn about the interesting history of the area by taking a boat tour in the park through Captain Jack Boat Tours.
2. Sun Splash Family Waterpark
You might be surprised to find out that Southwest Florida's largest waterpark is part of the Cape Coral Parks and Recreation system! This fun-filled destination is perfect for families, and Cape Coral residents get the added benefit of reduced rates for both daily admission and season passes.
At Sun Splash Family Waterpark, you can enjoy 14 acres of pools, waterslides and outdoor activities. Head to the Cape Fear waterslide if you're ready to tackle a 30-foot drop, or relax and unwind while you tube through the Main Stream Lazy River. If you want to stay out of the water for a bit, enjoy a game of sand volleyball or take a stroll on the scenic Ecological Boardwalk.
3. Four Freedoms Park
There are plenty of fun things going on all day long at Four Freedoms Park. The park is housed on 3.2 acres of land overlooking the beautiful Bimini Basin. Kids and parents love the shaded playgrounds, and there is a beach area for sunbathing. Bring a lunch along and enjoy dining alfresco at one of the park's picnic areas.
If you need to beat the heat, head inside to the air-conditioned recreation facility. This multi-purpose center offers classes and activities for all ages, and it also includes a full preschool and VPK program.
4. Wagging Tails Dog Park
If you believe that spending time outdoors is more fun with your four-legged friends, don't miss the outdoor fun at Wagging Tails Dog Park. This pet-friendly area is located inside Rotary Park. It includes separate areas for small and large dogs, along with plenty of shaded benches where owners can relax while their pets are playing. Cape Coral residents can use the park all year for one low annual fee per dog.
If you would love to be enjoying these parks and many of Cape Coral's other assets as a resident, contact Cape Coral Mortgage today. We'll help you get the financing you need to purchase a Cape Coral home.
Image Source: Cape Coral
Cape Coral Mortgage, Inc.
3512 Del Prado Blvd. S.
Cape Coral, Fl. 33931
(239) 540 5555